She is famous for her interpretations of Jazz, Swing and 20s Charleston dance. She is one of the most versatile dancers and performers and she composes and presents her own Jazz Songs. Ksenia Parkhatskaya talks to me about her passion for dancing, her love for music and her secrets behind solo dancing. August 2020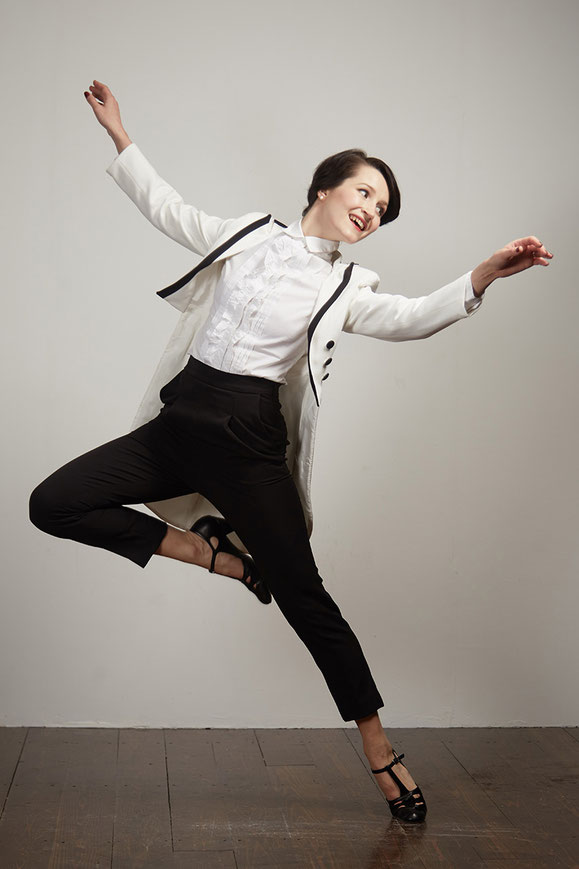 Dear Ksenia, the name of your Instagram account and your online dance school is called "Secrets of Solo" – what are the secrets behind your solo dancing?
For me the ingredients would be passion, connecting to music and every single moment of the movement, because that is the only moment we have in the dance, so basically living in the now of the body and the sound. Connecting and investing in each step I think  would also be my secrets of solo. (laughs) It doesn`t matter which style. Passion is something very important in life. It makes us alive in whatever we do. 
Your dancing is very inspiring and contagious – one wants to swing along immediately. At what age did you start dancing?
I am from St. Petersburg and I was born in Leningrad at that time. One of the most beautiful cities in the world for me. It is my hometown and I love it so very much. It's called northern Venice because of its many canals and rivers. I started dancing at the age of six with Competitive Ballroom Dancing, which I did for over nine years. It was training every single day in partner dances and competing almost every weekend. It was quite an exciting childhood. I don´t remember much of playing in the backyard with friends or going skiing or playing card games or any of those things children or teenagers do. I was completely immersed into dancing and I loved it very very much. I was an absolute perfectionist as a child and for me it was all or nothing, so I loved to invest hundred percent of my energy into whatever I was doing. My father was really passionate about me dancing and he brought me to every single competition and training. And at home at eleven p.m., after all the training, he would correct me and show me the movements I didn't get perfectly. My childhood was an amazing artistic dance life.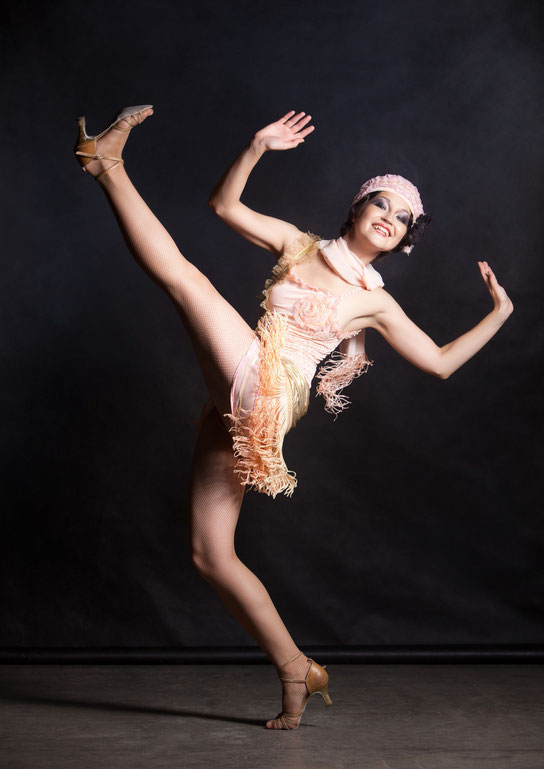 Where did you complete your dance training?
After I trained Competetive Ballroom Dancing in St. Petersburg, I trained to be an actress and a dancer in a musical theatre called Yuventa. I was in that theatre for about five years. I was going to different open dance festivals for workshops with fantastic dancers from all over the world. We were dancing all sorts of musical styles from Modern Jazz to Authentic Jazz dance styles and Contemporary, those kind of techniques. I actually graduated from Herzen State Pedagogical University in the department of philosophy and culture studies in St. Petersburg. So I have a teaching degree. I worked in the academy, teaching history of arts for two years and in a russian state museum as a guide for russian fine art. After Ballroom Dancing and Theatre Yuventa I discovered Social Dancing, which is Swing and Jazz Dance in Casa Latina, the one and only school in St. Petersburg. Three months after I started, I went to Sweden for my first international dance camp and from there on I was travelling the world, trying to learn more about Jazz and the social dance styles. 
What dance style do you specialize in?
At the moment I specialize in Solo Dance styles and primarily in Jazz Dance styles. The Swing Dance styles like the 20s Charleston, Be Bop, Lindy Hop, Authentic Jazz or Jazz Roots and Swing. All these Dance styles are my primarily specialisation and they have been my passion and profession for the last ten years. But in my baggage I have ten Ballroom Dance styles. I have also been training in African Dance styles and went to Senegal to study from four fantastic choreographers from different parts of Africa. I also dance House and Contemporary and basically am trying to be the dancer from the Capital letter D back in the days maybe. (Capital D: Russian expression to say real dancer.) In the art scene today people are trying to be very narrowly specialised, but I think for such art forms as dance, it´s very beneficial to train in a wide range of styles, to be versatile and to be able to bring something fresh from one style to another and to know different ways of expressing music through your body. The more you train your body in more different languages and ways of expression, the more versatile you are as a dancer.
Do you have other skills besides dancing?
Right now I am working hard on improving and developing the skills of singing and singer/song writing and lyrics writing. I am about to release my second single "Rose & Blue" from my next album "Colours". It is an album under my Name Ksenia Parkhatskaya with original songs and lyrics written and produced together with my dear husband and composer David Duffy. We have already produced and released an album together last year called "Something Else" by our Band called "K Quintet". The letter K stands for my Name. The idea behind the K Quintet Band is more straightforward Jazz, even if the songs are original instrumental Jazz tunes. I try to explore other territories and try not to label myself in specifically the box of Jazz. Three years ago I started writing my own songs. My big passion for music and my poetry. I love singing very much and one day, when I was jamming with my husband, the first song came up. He is the great arranger, we create together continously and it´s such a blessing to be working in a duet. The Album "Colours" is a colaboration with other artists, such as my sister Evgenia Parkhatskaya, who is a sculptor and painter living in Stockholm and Julie Boehm, a film director and artist from Germany and Mark Zimmerman, an animation and virtual reality creator, also from Germany. Together with this super fantastic, bombastic artistic team we are preparing this album, which will see the world on September 14th!. More information of the release and animation of the single "Rose & Blue" can be found on my website: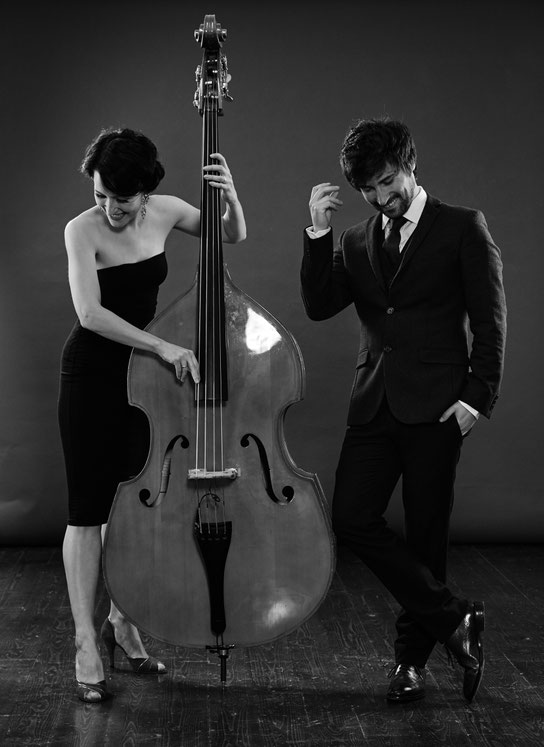 Do you participate in dance contests? Which contests are your favourite?
To be honest, I don´t really love contests. Nine years of my life I competed in Ballroom Dancing competitions and it was all about competing, about comparing, being judged, very objective standards. Ballroom Dancing is almost like a sport today. The moment I entered the world of theatre and Solo Jazz which is a social dance style, and a subjective dance style, somehow the idea of competing lost any sort of attraction for me. One of the recent competitions I took part in, was more a kind of a battle than competition. It is called "I love this dance" and it took place in Paris. It was one of the most exciting things that ever happened to me in terms of battling and competing. I was invited to this urban dance battle which is a showcase of different styles of dancing. Usually once a year this dance crew invites dancers to battle and they gather on one stage with a huge audience of dancers who are very curious. I was really honored to be invited as a representative of Jazz Dance to that battle with all the top star dancers of different styles like Locking and Cramp and Waacking and Bone-breaking etc. On stage, they randomly choose who you are going to battle with and the interesting part of this competition is, that every dancer prepares his own song. And when you have been chosen, who you are battling with, the one who is in the left corner, dances first to the song of the other dancer. It can be anything, you have no clue of the song. So it´s a lot about your spontanous skills as a dancer and your skills of improvisation and your reaction to music.  And after that you dance to your own song and then your opponent dances to your song. There is no winner or loser, there´s just sharing and appreciation. I truly love that format and I will forever remember that competition. It brought me a lot of new connections with phenomenal dancers from all over the world. It was amazing to discover those people because I love getting inspiration from all those other dancers with their cross border styles. Another thing that happened at this dance competition, was that I got a major contract for a big italian media company TIM to be their face and representative with my Jazz moves and communicate to the world.
How often do you train or dance?
It really depends. There are periods in my life where I train every day. It is very convenient for me here in Barcelona, where I have my studio across the road and I can book it every day for two hours, maybe five days a week, having two days for resting. It´s wonderful - the moment you get into a routine and start something, is when you see improvements and things blossoming. There are also periods where I don´t dance at all and as strange as it may seem, those phases are really helpful and useful. You are like a wine. You brew, you don´t dance, you don´t move, don´t explore, leave everything you have been doing, like training, to rest and brew inside your body and convert into something. It´s always very exciting to come back to training after those periods of silence to see how the body reacts to music and it may be that new movements and a different attitude appears.
During the period of lockdown here in Barcelona, which was three months, I did bodywork every single day. I took classes, I gave classes online, I did a lot of training in my house because even though we were locked down, it didn´t matter, because it was motivating. Through the body movement we could connect with each other, the moment, life, the world. So that really helped to go through this hard period of lockdown. 
I love dancing so much, it is more than my career, it is my daily way of being. There are times when you get tired of your career, but I don´t think I get tired of just dancing and moving my body.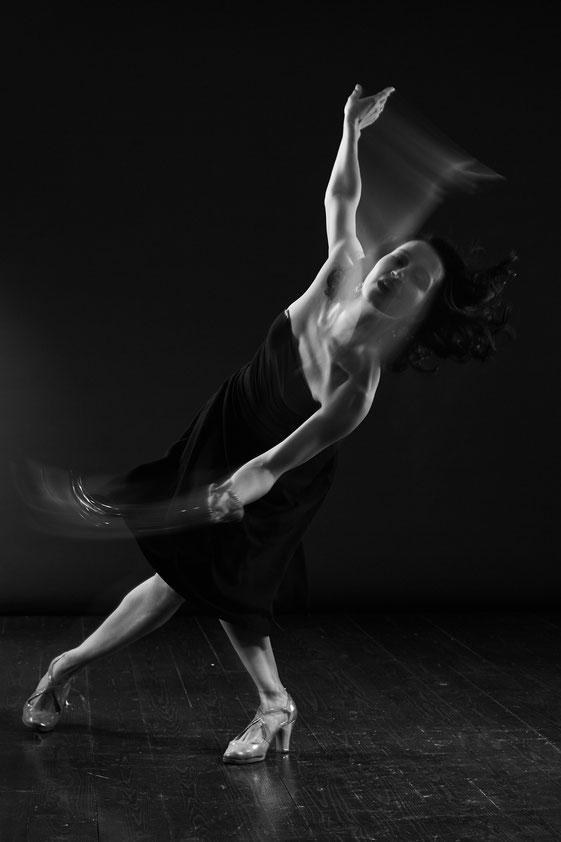 Do you choreograph your own dances?
Yes and with pride and joy I am happy to say, I choreograph all of my dances. There was maybe one occasion after I started my solo career when I was part of "Other Tales from the undergound" which is a piece by Johnny Lloyd in Eindoven, Holland. Being choreographed by someone else was a really amazing experience. But 99,9 percent of my work is my work. (laughs) It is both exciting and difficult because you are taking the inspiration from yourself and at some point you are trying to be your own mentor, your own choreographer, your own director. Now I am very excited to collaborate with some of the really great dancers here in Barcelona, to have an impact and influence in choreographing new dance projects with them. It really helps to open up your field of view. Then I want to mention the duets with my dear friend Daniil Nikulin from Moscow, which we have choreographed together. It is a very exciting project, we speak the same language in dance and we understand each other so well, we feel the groove and there is no explanation needed sometimes. 
What is your daily routine?
It depends on the different periods in my life. There are periods when I tour a lot, then my routine is completely different. Then there are times when I stay in Barcelona for weeks or months. I actually started planing my touring much better so that I have a month in Barcelona because I noticed, my creativity needs routine and repetition to blossom. When you tour all over the world it is good to give, but it is very hard to create in those moments. Here in Barcelona my daily routine is waking up, feeding my two little kittens with my husband, then I do Yoga, which is very helpful to start the day. Cold shower, lovely breakfast, we eat vegan and to start the day I need a good cup of coffee. (laughs) Then I go for my two hour schedule training and after that I do administrative work on the computer, which is connected to my online dance school "Secrets of Solo" together with my husband David Duffy. The school requires a lot of work. We have eight hundred active students and more than ten thousand people who are on our mailing list, so we work on communicating with them, releasing interesting content and keeping them interested. All those social platforms we care for by ourselfes, the design, the communication etc.
And there is also one little part of the day, where I get inspired. Maybe by a little reading session or watching something and copying that or maybe doing something creative together with my husband, like thinking of a new course or writing a new song, those kind of things. So the days can be really different. Super intense if we have a release of a project. That is what being a freelancer is like. (laughs) It´s never something really stable. Sometimes big waves, sometimes quiet ocean.
What kind of dance lessons do you offer online?
This year, my husband David Duffy and I, we are celebrating our fifth year anniversary of running our school "Secrets of Solo" and we are proud to say that it is quite a success. We have seven online courses, and we are about to release the eighth one. Courses ranging from 20s Charleston to Secrets of Improvisation, World of Kicks, Creation labs, different courses focusing on specific topics. I really love this idea of having not just a library of tons of different videos, but instead conceptual courses. One course might be four and a half hours long with many videos. But it would have a progressive line that it is dedicated to, which style it embraces. Going the linear way from something simple, basic and fundamental to an intermediate level, to something really advanced. Maybe because I am also still a teacher, there is a teacher in my genes, in my blood, from graduating from pedagogic university. I love to think of my online school like that. An approach with a concept, an idea and I´m happy to say that in September we are releasing the fourth variation lab which is an original course by me where I propose to people how to create their own steps in Jazz, how to play with them and innovate basically. So we are releasing the last fourth volume. We also have a personal video feedback offer online for the premium subcribers once a month, reviewing their work. It is quite exciting and interesting for me to see how people progress and it is super helpful for people who learn online. It is important for the students to have a guidance at least once a month and for us to show them what their strenghts are. Knowing your strenghts, your diamonds, as we call them, is equally as powerful, as knowing your weaknesses.
What does dancing mean to you and what do you like most about dancing?
Dancing, moving the body is essential for me. If I don´t move my body I feel like I am locked in a box. I am connected to the wind, my skin, the floor, to my toes. (laughs) In this era right now, it seems a very common thing, not to be connected to your body. We all live a little bit too much in our brain or sit at the computer for too long. Almost like atrophy of our body. I make sure I shake the dust of the day off through movement. I connect myself and I always feel wonderful, so much happier and alive after moving and sweating, after being in this very moment. It is almost like a meditation and therapy. I also love the beat and the groove and to be able to personate things through the body and to have that beat in me. 
Ksenia Parkhatskaya 
© Ksenia Babushkina & Nuria Aguade & Alina Yanechek
Who inspires you?
That´s a very big question! My cats inspire me, a sunny day inspires me and my husband inspires me. Friends around me with beautiful qualities, how they surf life and make their choices in life. Those little things inspire me. A good coffee can inspire me (laughs) or somebody`s beautiful dress. I find it very important to maintain this wonder and sparkle in the eye like Clarisse McClellan in Ray Bradbury´s book "Fahrenheit 451", she had a wonder in the eye!. 
Being alive like a child, playful, noticing things, smelling flowers. That is inspiration. Speaking of the famous people, it would be Oscar Peterson, a canadian Jazz pianist, composer and musician. He is my absolute favorite Jazz musician. With his joy and love for music and his passion when he touches every note and it transmits through music. The grand Ballerina Maya Plisetskaya, her incredible power and strength inspires me as well. She danced, created and lived through the Soviet-Era. A lot of ballets were written specifically for her like Carmen. The way she thought about dancing is closely connected not only to the execution of the moment in the gymnastic sort of way, but also to always connect a movement to storytelling. And to make sure, to transmit a story through the dancing. A note that an orchestra played, those kind of details, they inspire me. I want to have them around me all the time.
Would you have liked to be born in the roaring golden Twenties?
Yes and no. To be honest I am very happy with where I was born, who I am and the times I am living in right now. And it is very hard to imagine to be living in a different time. But maybe if the question would be - do I love the golden twenties or would I like to become a little flapper for just one or two days and see how it is? I am sure it was quite dangerous as it was dramatic and sad and traumatic, not such sweet times back then. But to try those beautiful handmade dresses and to hear those orchestras and to be a flapper in a buttleggers club. I think it could be fun to try. (laughs)
(Flappers of the 1920s were young women known for their energetic freedom, embracing a lifestyle viewed by many at the time as outrageous, immoral or downright dangerous. Now considered the first generation of independent American women, flappers pushed barriers in economic, political and sexual freedom for women)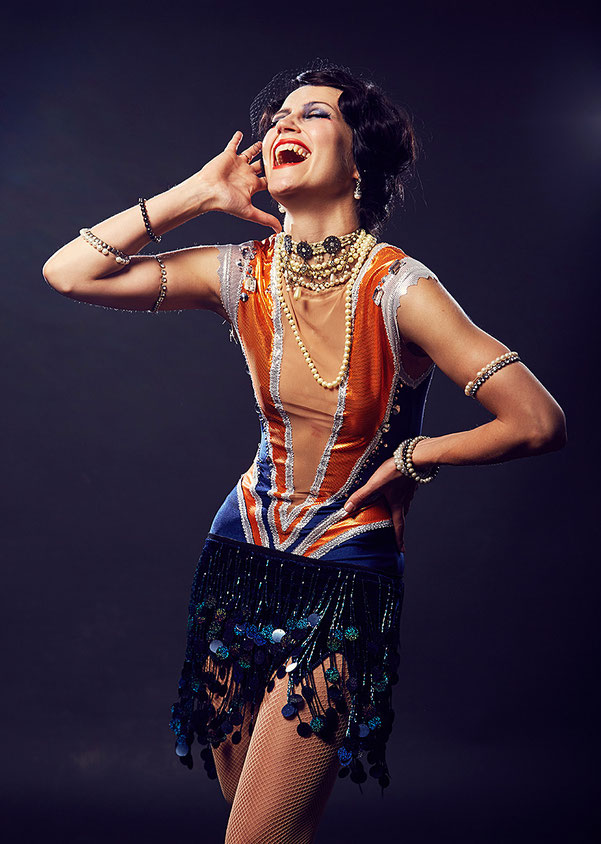 Where do you like dancing the most? In what kind of atmosphere?
It all depends on the mood and situation. I love stages so much. One of the most exciting performances I have ever done was at the classical music festival "Violong sur le sable" in Royan, France, where I performed with the Paris Classical Orchestra in front of fifty thousand people. That was probably the biggest audience I have ever danced in front of. A spectacular event in my life and I was really happy to do that. I have a passion for the stage but I also love dancing for a video when it is recorded. I really love producing dance videos. I also do love dancing in clubs, pubs and bars. But I am not a long "runner" in that case. I am not the kind of dancer who will dance ten hours long through the night. Somehow I am a short distance runner and I love to give it all for maybe two hours maximum and then to stop for a while. (laughs) So, my answer would be - I like dancing the most on stage.
Are there any historical or cultural influences in your dance style?
For the last ten years I have been dedicating my life to the Black Dance styles and the African-American dance culture. Vernacular dance styles (Any form of dance that evolved naturally within a particular community, without the intervention of professional choreographers) such as Black Bottom, 20s Charleston, Vernacular Jazz, Lindy Hop, Swing styles. There are tons of influences of these styles and cultures in my dancing. West African dances are also a big influence, for example "Sabar" or just the african attitude and characteristic of African dance. So that is what I embody at this very moment. The first fifteen years of my life I was more embraced in the european dance culture, which focuses more on the centre and upper part of your body. The directing and intention of your movement is all up, up and above. In the Black Vernacular dance styles the characteristic is being grounded, dropping into the floor and having the centre of your body in the pelvis. As well as the improvisation, the bent legs, the symmetry of my movement.
As much as I love the pure style of authentic Jazz and Black Vernacular dances, I´m a really big fan of mixing things. I love to mix a little bit of the movement "Gaga" technique by Batsheva Dance Company with african dance movement of Irène Tassembédo, who was my dance teacher in Lécole de Sables, Senegal, with a little bit of Twenties and a little bit of House. So I really love to contaminate my dance style.
How important is music for dancing?
It is really important but it depends on the dance style. If you look at Contemporary dancers, music for them usually acts as a background to create an atmosphere. They don´t really follow the music and the structure and rythm of it. But specifically for Jazz styles, music is essential, it´s your partner.
If you are dancing solo you have two partners - the music and the floor.
You might be part of the music and dance as if you are an additional instrument. You might embody exactly what the instruments do in the music. It can be the embodiment of the sound. You might be a combination of those two. In my teaching and dancing, it is all about understanding a little bit of music theory of rythms, harmonies, structures of solos and learning passages of solos of some famous Jazz musicians. These things are essential in my "Secret of Solo" classes. Sometimes a class is all about scatting - scatting and then dancing. Understanding the rythms you produce, not wandering like a blind soul in the darkness trying to hit something somewhere, but really knowing and communicating with the music. 
What would you say is the difference between masculine and feminine dance?
There´s no difference I would say. (laughs) You know, all of us have masculine and feminine energy inside of us in different proportions. So I don´t look at that as black and white or as one and another. I always look at how much percent of masculinity or femininity you are going to bring in to your dance. Men and women can play with those percentages. It´s not the differences between those dances, it´s the energies and the percentages of the energies. In the past years I  personally loved bringing in a bit more masculine energy into my dances. 20s Charleston has a bit more feminine energy, which is more playful and light. If I am asked - is this move for men or for women? -  I answer, there is no gender for this move. This move can be danced by anyone without gender borders or seperations.
Tell me about the film "Paris you got me"
That was one of the most amazing event in my life! There was a period where I was modeling and dancing for my sister Evgenia Parkhatskaya, who is a body painting artist. We were performing a lot as a duet in body painting festivals in Austria, where we won awards a multiple times for the best perfomances or models. My sister would paint characters on my full body and I would impersonate those characters. On one of the shoots in Austria I met Julie Boehm, I already mentioned her. She was a splendid model too. She was also a dancer, gymnast, and was studying at the film academy in Austria at that time. Somehow we were really bonded. Many years later Julie contacted me and proposed to me to participate in her graduation short film "Paris you got me" to be the protagonist together with Liam Scullian, a professional british dancer who lives in Berlin. The filming for eight days, thirteen, fourteen hours a day was super intense and exciting and there were a lot of new things for me to discover on the set. A brilliant team of super talented cinegraphers, filmographers and Marc Zimmermann, Julie Boehms Partner, took part, who was dealing with virtual reality and green screen and compositing, which was a great honor for the film. The film is stunningly beautiful. For three years the film was touring the world on different film festivals and won so many awards. Even as a student film it is so professional. I am forever grateful to be a part of that film and thank god life connected us with Julie. And I am very proud, that we are working together with Marc Zimmermann on the new project for my single "Rose & Blue". 
Video Trailer "Paris you got me" by Julie Boehm
What are your plans for the future?
In September I am releasing a new and last variation Lab Course Volume for my online school "Secrets of Solo". It´s going to be about Charleston Dance Step with variations and tools for creating your own interpretation of that move. And on the 14th of September as I already mentioned, I am releasing the new single "Rose & Blue" from my personal album "Ksenia Parkhatskaya - Colours". And at the end of the year I am happy to announce, that I am presenting a new absolutely brilliant master of dance, Aina Lanas with a course called "World of arms". It`s a special edition for the "Secret of Solo" online school. These are the big plans for the nearest future, so good luck to me in releasing and realising them! (laughs)